Some effective ways to use social media for educating children and marketing educational institutions compiled by social media marketing experts.
Table Of Contents
Social media has grown to become a fundamental part of our lives. It won't be an exaggeration if I say our lives are driven by social media. Be it purchase decisions or education, social media influences almost every single aspect of our lives in the 21st century.
People turn to online platforms, especially social media, for making a purchase decision or while opting for any kind of services, and being a part of this society, it is vital for us to adjust accordingly. The current generation is all about social media. They do not know what life is if not for the internet. Stats show that 95% of teenagers have access to their smartphones and almost 80% of them have an online presence on one or more social media platforms.
Using social media for educational purposes
When people talk about students and social media, people always look for the negative impact it has on students' life. However, as an instructor and a parent, you have to make sure that this interaction has a positive side to it.
Especially with the pandemic making almost any kind of social interaction difficult, this is the time to switch to online means for educating your students as well, and what better way to do so than using familiar social media platforms already in use by students and parents.
Primarily, this blog will discuss how we can increase student engagement in the classroom through social media. By now, we have established that almost all the students have access to social media and spend nearly half their time glued to their phones or laptops. So, here are a few ways in which you can use social media for educational purposes.
1. Broadcast updates and alerts on the Facebook page
Why experiment with some new platform and cause chaos and confusion among the students when you can use the most familiar and frequently used social media platform i.e., Facebook. It is the best and the most suited platform for educational purposes.
All you have to do is create a Facebook page for your class and have your students follow that page. Once the platform is set and ready to be used, the instructors can post daily homework, assignments, or any major update about the class on that page. You can also enhance student engagement by initiating any kind of course-related discussion on that page as well.
The major benefit of using Facebook is that it is accessible to students who are not active during class times for some reason. They can access the page whenever they log in to their accounts and access content that is there. With every new update, Facebook is introducing new features to make the experience better and better for both students and teachers.
2. Initiate live lectures and host discussions
Social media live is the most popular feature on all social media platforms. This feature saw its peak especially in 2020 because of Covid-19 causing almost all professional, educational, and recreational activities to move online.
Facebook Live is the most convenient and approachable way to take classes, engage with your students, discuss assignments and projects, etc. you can create a public or private group, as per your choice and ease, add your students to that group, and only then your students will be able to have access to your Facebook Live.
You should make sure that you maintain a professional environment during this interaction. It does not sound appropriate for a teacher to be sending friend requests to his or her students. To remedy that, you can send links, for joining the group, to the students and their parents through a professional email. These live sessions are the best online platforms that ensure a convenient and accessible means of communication for both teachers and students.
3. Using Twitter as a notice board
Twitter, with its 280 words limit, is the best medium for concise and effective communication among the teachers and the students. In addition to being a tool for information, it is a way of teaching critical communication skills to the students so that they can learn to express themselves concisely and more powerfully.
The teacher can create a single account per class or can reuse it, at his/her convenience. Twitter pages make great discussion boards for students. They can also be used to post reminders for assignments or quizzes or act as a source for providing links to practice quizzes or other course content.
4. Using Instagram for visual evaluations
Instagram is a great platform for visual content. Owing to its versatile features, it can be used as a tool for educational evaluations of students. For classes involving poster making, storytelling, or any other content format requiring visual creativity, Instagram is indeed the best platform.
You can also create an Instagram introductory account for your class. There you can post the achievements of students as a token of encouragement for them to work harder in the future.
5. Creating a blog for discussions
It is another effective way of increasing student engagement on social media for educational purposes. You can create a blog for your class that can act as a focal point for linking all the social media accounts of your class. Platforms like WordPress, Tumblr, Squares pace, and Wix let you create blogs, and to participate in discussions, the students will have to create their own user accounts.
These blogs can be used as a reminder for assignments and projects, share syllabus-related links, and any other kind of update regarding the class. Moreover, these blogs can also be used to share relevant information and studies related material.
6. Using blog posts as a format for class essays
It is a creative way of combining learning and social media. You can assign students to write and manage these blogs as a part of their semester or year-long class assignments. This activity will not only enhance their writing skills but also help students sharpen their critical thinking.
You can also ask your students to respond to weekly prompts. This is not specific to writing classes only. You can also use it as an engagement medium for almost any subject you want.
7. Create a Pinterest board for your class
As a teacher, you can use Pinterest to organize lesson plans, prepare worksheets for classes and manage academic resources. These boards should be class-specific with subtopic boards for weekly units. You can also pin course-relevant content on Pinterest boards to help your students have a better understanding of the subject.
As far as student use is concerned, Pinterest is a great platform for curating digital bibliography for your research projects and group assignments. You can search for relevant content and then pin it to be used whenever needed.
Social media for marketing Educational Institutions
Social media is a platform that is widely used for marketing purposes. With almost everyone and every other business having an online presence on one or more social media platforms, it is the best way of expanding your reach online. Here are a few ways to take up social media management services to market your educational institute online.
1. Social media links on the school website
Among all the online platforms, having a website for your educational institute is really important. It helps build that amazing first impression for your institute. Now, having access points to all the social media accounts in one place, that is on the website, really convenes the experience.
All you have to do is provide links to all your social media accounts on your official website. The website acts as a hub linked to all the social media platforms so that potential customers can do their research conveniently and it elevates the overall visitor experience. Moreover, make sure all these online platforms are updated and quality content is available to help create a better image for your institution.
2. Share event photos on social media
As a part of your social media marketing strategy, keeping your social media platforms updated about all the events happening on the premises is crucial. Post pictures of different educational and extracurricular events happening on campus. It gives a unique touch to your online presence and helps convince more and more people to opt for your institute.
3. Create interest-based Facebook groups
Facebook groups help connect people with similar interests. Sometimes students want to stay connected to the institution even after the degree is completed. You can add these students to different groups. These groups can be of any kind. For example, alumni groups, class-based groups, departmental groups, and different extracurricular groups to help connect students with similar interests. These groups can be private or public, depending on their purpose and these can help amplify the institute's presence online.
4. Social media and crisis management strategy
During emergencies like fire etc., you must have a reliable management strategy to keep the parents and students informed of all the decisions made in these situations. Social media can be effectively used to send the message across. It will keep parents and students up to date with recent developments and will allow them to make informed decisions depending on the situation.
5. Manage all your accounts under one roof
The competition is increasing and it is the need of the hour to step up your marketing game if you want to remain in the competition. Gone are the days when having a mediocre online presence was enough to drive prospects to your institution.
With more and more people switching to online means in the deciding phase of their journey, it has become crucial to stand out and display an impressive picture to help people make a decision and opt to join your institute.
You should have a sophisticated social media management system that manages all your social media accounts in a streamlined manner. If all of this is too much for you to handle, it is best to hire a professional whose only job is to keep all the social media accounts updated. The goal is to display an attractive yet informative image of your institute to help people make an informed decision.
Many social media marketing agencies in Dubai and around the world guide you through the whole process and help you manage all your social media accounts in a way that is attractive and compelling for potential clients.
This is it for today's blog. I hope that you enjoyed reading it and that you've learned a thing or two about using social media for educational purposes. Do share your feedback with me and if you have any queries regarding social media marketing, write to me and I will get back to you as soon as I can. Thank you and Goodbye.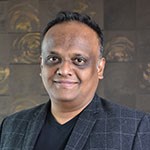 About The Author: Lovetto Nazareth
Lovetto Nazareth is a digital marketing consultant and agency owner of Prism Digital. He has been in the advertising and digital marketing business for the last 2 decades and has managed thousands of campaigns and generated millions of dollars of new leads. He is an avid adventure sports enthusiast and a singer-songwriter. Follow him on social media on @Lovetto Nazareth