The May Core Update for 2020 is done and the world is reeling under the changes it has brought with it. Millions of websites across the world have lost ranking and SERPs in one fell swoop. Now Google has a mission to make the web better and as a part of that mission, it releases algorithm updates to better the net by raising the bar for standards to which web developers have to adhere to when creating and developing websites. As a well-known SEO agency in Dubai, Prism has collated valuable information and everything you need to know about this new update. You can also check out our blog post on the latest SEO trends for 2020 so as to check if your website is keeping up with the overall market trend.
If you don't know what I am talking about here is a brief recap: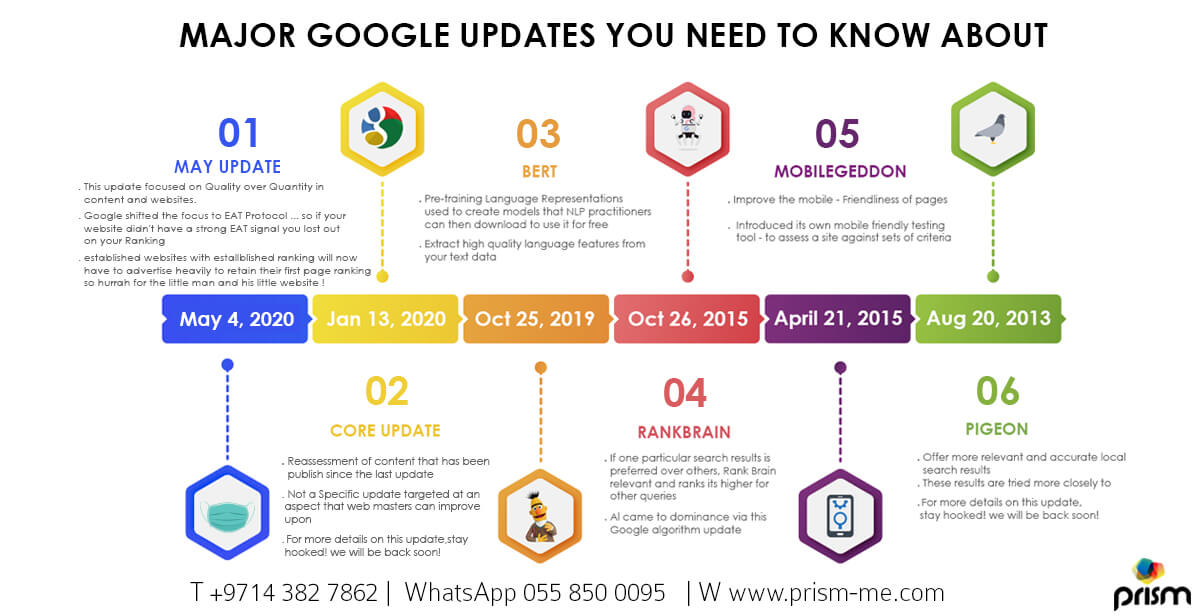 Click here to download the infographic we have created. May 4th, 2020 Google announces a new update to the algorithm and it sends the entire world into a tizzy. Check out my video on Google Ranking Impact 2020. It was supposed to be a core update to the base algorithm so everybody was expecting the worse. But the people knew this was coming because Google search engines informed the world about this update way back in January 2020.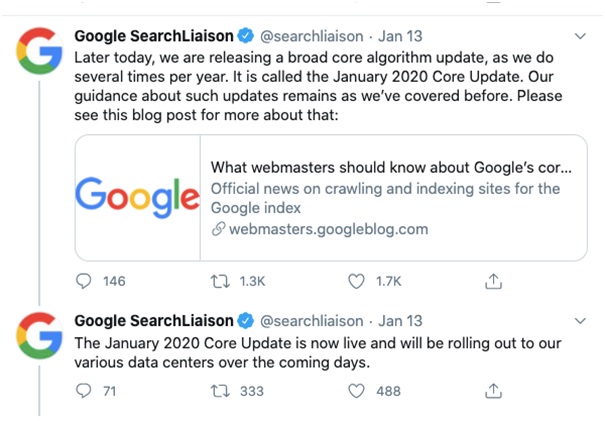 Based on the trend of the January release we had already informed our clients of the changes to be expected in February and March 2020 but a lot of companies and business owners out there were completely sideswiped by the May 2020 core update. Worse still, it came in at the worst time especially when the world was reeling under the coronavirus pandemic and the recession. To put things into perspective, the may 2020 update caused an upset of over 9.4 on the SEMrush SERP volatility Scale and the Moz heat index which is the index every SEO worth his/ her salt refers to every day at the start of the day!
If you have a website that is ranking #1 on Google for the last couple of months you will have to take a relook at your rankings now because your website has a 78% chance of having dropped in its rankings.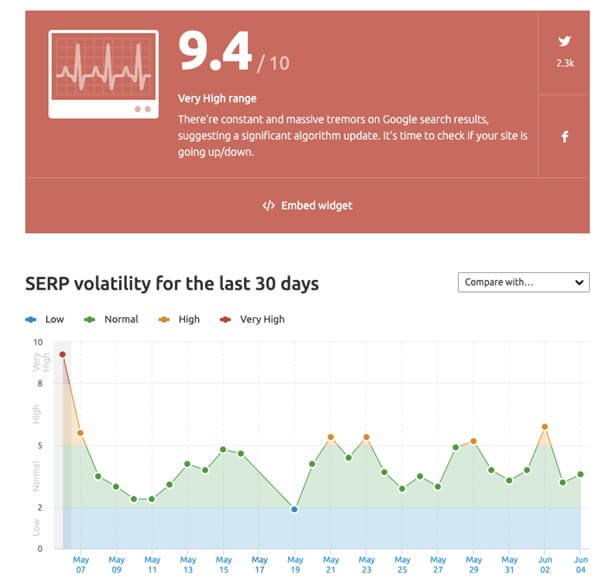 How does the May Core Update affect you and your website :
The Core Update 2020 will have a very strong effect on your website and its rankings. Because of the update if your rankings have dropped your traffic on the website will have dropped as well.
For every rank that your website drops off the first page of Google, you will lose about 23% of your traffic
If your website goes to the second page of Google the traffic to your website could drop by over 85% and that for eCommerce sites means apocalypse now.
It's important to figure out why your site's ranking has died. This is because Google has penalized the site. After all, the site has unaddressed issues that led to the ranking drop. If you would like to know the 6 reasons why your website has lost its rankings and how should you rectify the situation Watch my video in the banner above Voice Over. This is an screen shot of the Digital world as it is today.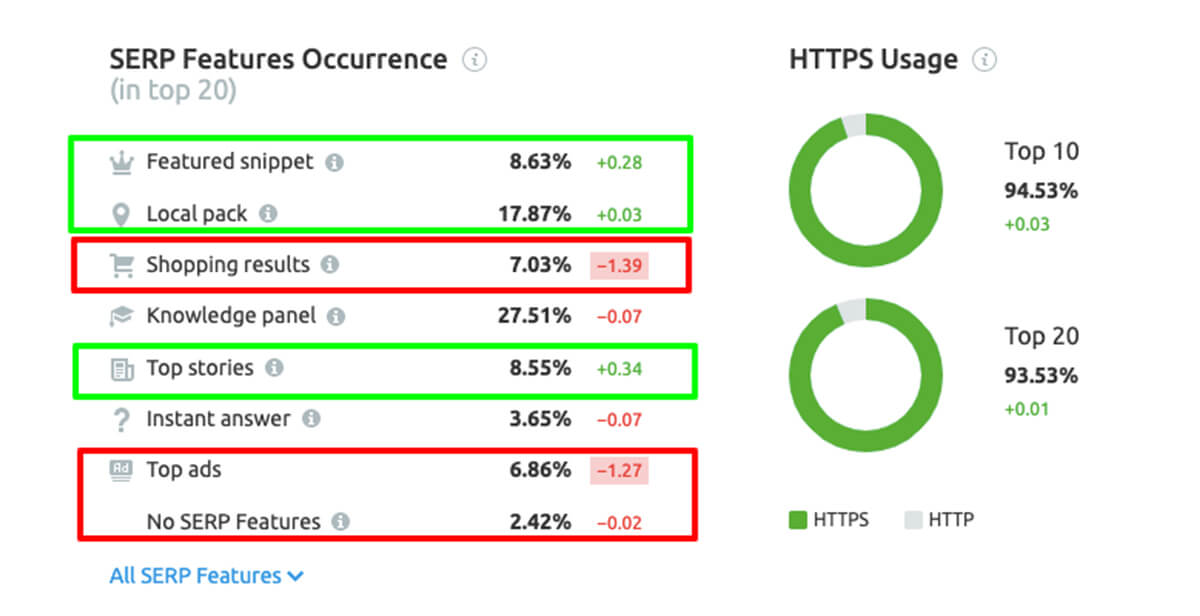 If your website has a SSL certificate protecting it you are going to be so happy that you invested in it.  If your website is well equipped with rich content like Featured snippets or has a well established local Presence,  or you have a strong Presence on the top stories segment of Google,  you are blessed because Google will reward you site with Google Brownie points called Googlly Points.
Just Kidding !
On a serious note however if your website is missing on Shopping results or Rich Snippets for Shopping carts or a well-established knowledge graph,  or even Rich SERP features then your rankings are 100% sure to tank. We would like to showcase Three SEO and content marketing case-studies which have grown far beyond even our expectations: these are worthy to be called case studies as they have increased their traffic and sales more than 10X in under one year as you can see in the case studies below
What are the Biggest Winners in The Google Update 2020 in the UAE
May Core Update 2020: Case studies of some Winners and Losers in UAE
Case study 1:  www.2XLME.com
Prism has been working with 2xlme.com since the last year to grow the traffic of the site and the sales through Organic SEO. What you will see below is an understanding of how we grew the site from under 1500 per month traffic to over 16000 per month. In under one year. We have also enabled them to grow their business to close to 2 million Aed. per month even in the current situation. Watch their Testimonial on how we grew 2xlme.com into 2 million sales per month online business.

At the time of us writing this blog at the start of May these were metrics from www.semrush.com. As the January 2020 update hit the site Organic Traffic took a hit and hence we made some quick changes to the site and the content on the site, and hence as May rolled in, and all the core changes updates started to kick in, we made sure that the organic traffic from the site grew by over 3000 percent since the last year! So, this site benefited from the May 2020 update because of the way Prism Digital, optimized the site.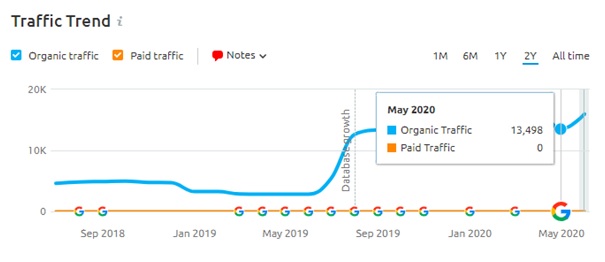 Here is a more detailed look at how the changes on the site improved the ranking and how it affected the traffic in just one month.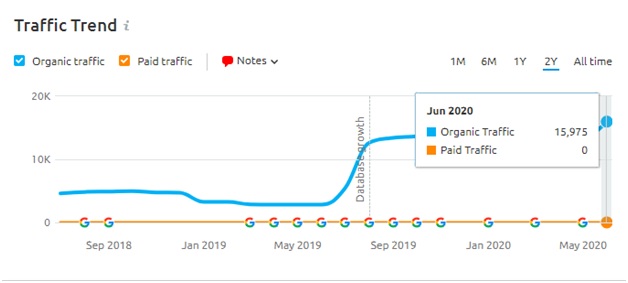 This is because we adopted the E-A-T protocol
Case study 2 :
These are the metrics of the website as of June 2020 which shows how with simple optimization techniques we were able to increase the organic traffic to the site by 3.2% ( 17659 unique visits. ) This website is one of the biggest winners of the SEO Game in 2020.

Here are the traffic trends insights for May 2020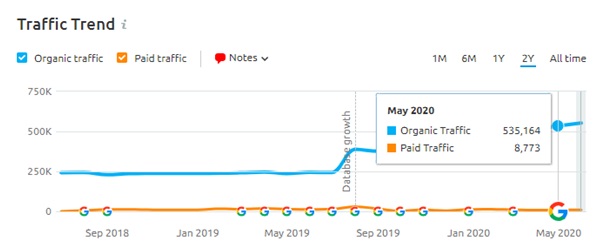 Here is the traffic insight for June 2020 :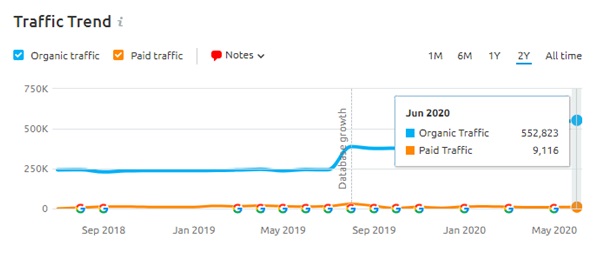 Case Study 3:
www.Mumzworld.com: Mumzworld.com is another heavy hitter in the eCommerce space specializing in content-driven eCommerce. In 2018 their focus was on building their eCommerce business which was pretty standard till August 2019 where they adopted the E-A-T Protocol for content optimization and authority. After that their ranking grew by over 35% MoM and now they have reached the enviable position of the top ten trafficked eCommerce store in the Middle East. Even the January Google Core Algorithm Update had little effect on their ranking and traffic. As you can see in the below screenshots.
Insights as per May 2020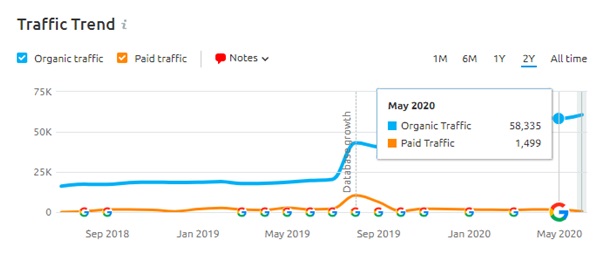 Insights as per June 2020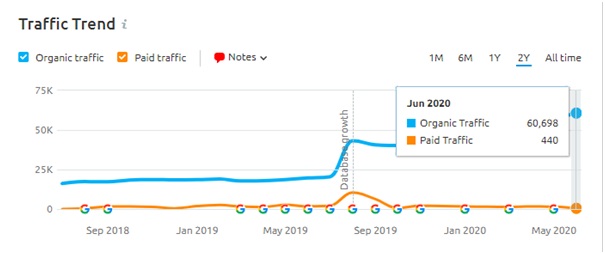 As you can see that by shifting to the E-A-T Protocol has served Mumzworld well and it has been able to establish dominance in the industry through content and authority from its social media engagement which also drives a lot of traffic to the site.
How to find out if your website ranking has fallen because of the Google May 2020 core update
Rankings Never Lie : If your website ranking has fallen over 5% - 25% in a particular niche for no obvious reason you have come under the update.
The Absence of Google Penalties: If your website has no previous Google Penalties or warning from GSC: if your website was sparkling shiny with no google penalties or warning on your Google Search Console then you have got hit.
Have you checked your websites' E-A-T recently? If your website is a leading website in its niche and you have a lot of smaller competitors that also publish relevant content then your website is prime for a ranking cull. Because this core update gives smaller websites with more EAT signal Strength the opportunity to rank.
Has your website Pivoted Recently: Google Core Algorithm Update for May 2020 prefers quality over quantity and subjective content over generalist content so if you have published a lot of content that does not pique the interest of your audience your rankings will get hammered.
How engaged is your audience on your site?
If your site does not manage to retain customers and keep them hooked on your content then your site will fall in the ranking so bounce rate and time spent on the website are massive ways that affect your ranking.
How you can remove the drop of ranking caused by the May 2020 Core Update ( and claw your way back on top of the ranking in 2020 )
Follow the E-A- T Protocol ( Expertise Authority and Trust ): Google Prefers Sites that demonstrate Expertise in the niche they are in. This expertise is determined by the type of content you put out. Its relevance and more importance its acceptability by the audience you are writing for. Authority is built after months of generating quality Niche based content which is well accepted and upvoted by your peers in the community. Trust factor depends on how many times your website has been recommended or how many citations and references to the content you put out are generated.
Stay Focused and Original: A Lot of sites that did a lot of plagiarism or copying of content from sites with good authority got destroyed in the May update. They landed up losing more than 87- 95 % of their rankings overnight and this included several eCommerce stores that were reselling or drop shipping a lot of products. Many of them have just copied content from the original site or Alibaba.com and paid the price for it. A lot of sites that published a wide variety of content from various contributors ( backlink farms ) also lost a lot of the rankings they once enjoyed. Google wants to eventually weed our automated backlinking or link bait automation and this is an important step in that process.
Less Is Always More Value: One biggest lesson that I have learned from this May and January 2020 update is that less is more, as in, the lesser content you put out the better especially since you should put out content only when you are positive about that content and that your audience recognizes that value and shares your content and engages with it. This can only be achieved by generating value in your content. If it is interesting people will read It, then they will share it and more people will read it and like it and then share it… so if you see some of the biggest winners in the may 2020 update were websites that took content marketing seriously and that they provided real value to their customers and had a high brand sentiment founded on trust.
Focus on Quality English and Quality writing: Google AI algorithm is very capable of finding out mistakes in writing and can identify right English or regional languages from badly written language. Please remember that autocorrect is close to 10 years old now and so is SIRI and voice commands so language detection technology is close to perfect now. so, the AI tech can identify every mistake you make on your website in under 0.0000071 seconds. That is a billion websites can now be copyedited by Google in less than 10 minutes. So, if your website has a lot of copy issues you will get flagged and eventually lose your rankings.
Get as multilingual as you can: Google wants to make the internet a truly global place so if you want proper rankings you will need to speak the language of the region you are based in. If you serve multiple locations please make sure you have Google My Business (GMB) incorporated into your website on a coding level as well.
If there are no changes to your ranking because of the Google May 2020 core update you might want to Contact the Best Digital Marketing Agency in UAE and we can help you get back on the first page of Google in no time and keep up with the Digital marketing trend 2020!!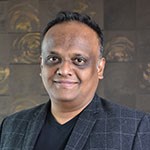 About The Author : Lovetto Nazareth
Lovetto Nazareth is a digital marketing consultant and agency owner of Prism Digital. He has been in the advertising and digital marketing business for the last 2 decades and has managed thousands of campaigns and generated millions of dollars of new leads. He is an avid adventure sports enthusiast and a singer-songwriter. Follow him on social media on @Lovetto Nazareth