Hi there, welcome back to my Blog. In this blog,  I am going to talk about TikTok what it is and how you as a retailer or a business owner can benefit from it. Ever since I started the channel I have received more than 1000 messages about TikTok and how people can grow their business with it As a certified TikTok marketing company in Dubai. Prism can help you create the content you need to have a booming TikTok platform. Prism Digital can also help you advertise your brand on TikTok or harness the power of TikTok influencers to market and promote your brand. Hello, we can even help you become a TikTok Influencer yourself so if you want to know how to use TikTok for business this blog will be gold for you.
Table Of Contents
TikTok is a social media platform that is used for creating, sharing, short, bite-sized videos and be able to share them within the app as well as out of the app on other content sharing social platforms. With over 500 million active users, with almost a billion daily video views, TikTok is one of the most popular social media platforms the world has witnessed. If you are in the digital marketing services business then you need to be on the platform for sure
TikTok appeals to people of all ages and is without a doubt is one of the fastest-growing platforms amongst youth across all types of demographics and interests. Due to the ever-growing popularity of this app, business owners today are harnessing the power of TikTok to promote their brand and create brand awareness.
Why should you consider advertising on TikTok ?
TikTok is a short-form video social media marketing platform  for making, sharing, and simultaneously discovering other short music videos, mainly for the digital age. It fantastic as an advertising medium if you want to target teenagers tweens and younger adults, with its interactive format and innovations like the hashtag challenge and AR Filters, it enables your brand to do so much more than just advertise a video. It allows your audience to immerse themselves in your brand and create user-generated content that is sharable and viral. Today, TikTok is seen as a platform where you showcase your brand's funny side and create short-form videos that excite educate and entertain. With this strategy and demographics as a marketing tool, brands can appeal to the younger audience.
What types of TikTok ads exist?
If your brand audience matches with this app, you would need to understand the options that these ads provide.
Brand takeover
TikTok A Brand Takeover is a full-screen ad that appears in the wall before the user-generated video appears. This type of ad purchasing is quite expensive on TikTok. The type of ad can differ from a three-to-five second Gif to a three-second image or video. These ads create a backlink for the business profile or a hashtag challenge. Brand Takeovers has exclusive operations to help many brands to place their ads. One brand a day display their ads based on the categories. With this principle, your ad will be displayed on a given day; the full- screen ads help to generate more user engagement. This ad helps brands gain more recognition and attention. As a TikTok marketing company in Dubai, can help you create the content

Buzz Video in-feed ad

Buzz Video details page ad

Buzz Video story ad

Top Buzz and Buzz Video Ads which include

In-feed ad 

Details page ad

Augmented reality will eventually also be used by TikTok as the app continues to grow its ad product development compete effectively with popular apps such as Instagram and Snapchat.
TikTok users will be able to have interactive visual effects from brand ads to their videos which will allow them to interact with the immediate environment surrounding them, according to people familiar with the plans. A car could zoom the length of the kitchen table, or the creator could interact with an advertiser's mascot as it bounces around the room, for example. The idea is to have these ads to be clickable and include feature music that plays as the user is taking their video. What the ad product may be called might differ when it releases. The global launch is due at some point in the third quarter of this year however the pricing is not certain.
TikTok users love creating content through hashtags challenges. If these are set up effectively, the hashtag challenge can become famous online and give your image a lift rapidly, as more and more individuals will join and make content. it only takes content creators a few clicks to participate in hashtag challenges It is, after all, an enormous driver to audience engagement. This is mostly because users are allowed to interpret challenges in their own way. While there are some introductory videos guiding users on how to do the challenge, they have a considerable amount of freedom to alter it. New ideas in performing the challenge are always welcomed, and there is no specific time to join in on it. This freedom of creativity is the key reason as to why TikTok is so entertaining and successful.
Finally, Why advertise on TikTok ?
With over 500 million users, it has become the most downloaded app on the Appstore for the year 2018. It's the best application to run your online networking promoting efforts on which enables you to communicate with youth between the ages of 16 to 25. Have a look at how you can benefit from advertising on this social media channel! Firstly, you need to know if it's the right platform for your brand.
So, Before you start advertising on TikTok here are some of my top tips for you to consider
Step 1 Research If TikTok Marketing Services Is Right For Your Brand:
You sure don't want to join a social media channel and have your audience know that you're not sure of what you're doing. To fit into this culture easily, you have to examine what sort of substance works and how to connect with clients on this online networking outlet. TikTok is all about fun and content that is visually appealing to the eye. Which means no one will listen to serious sale pitches. To find success on TikTok, you need to interact with an audience creatively and uniquely. A digital marketing company like Prism can help you maximize your visibility on the channel.
Step 2 Focus on Creating Fun Content:
Now since you know all about creativity and fun, you need to create some fun unique content of your own. Making your own content is the most pocket-accommodating and simplest approach to support your business on this stage. One of the best benefits is that you don't need a branding or advertising agency to create high resolution, polished videos; you can just pull out your phone and start recording. If it doesn't suit your brand style, avoid any over the top videos or outrageous memes. A simple, light-hearted video that showcases your products on music can go a long way and do wonders for your business.
Step 3 Create the Hashtag Challenge:
A hashtag challenge involves motivating the users of this App to create content and add your branded hashtag to the engagements and interactions.
Step 4 Harness the power of TikTok Influencers:
We agree there isn't a huge market for influencers on TikTok yet, but there will be and you can widen your reach by working with influencers relevant for the right influencer to promote your business, look for online tools that let you search individual bios on TikTok, look for the most favored languages used amongst an influencer audience, etc.
In conclusion here is the million-dollar question
Why should your business Join TikTok?
TikTok is relatively new in the market. Needless to say, that it is far easier to make a prominent presence on a platform with less business competition. If we talk about paid promotions then TikTok is way cheaper than other social media platforms such as Facebook and LinkedIn. It is a great start for businesses to gather and build an audience base.
It is an informal platform and gives businesses the opportunity to explore and think out of the box. Furthermore, it helps tap the highly immerging Gen Z market by creating content that appeals to them. Marketing, as well as advertising, is not rocket science all you need is a creative approach to meet your audience where they are and create content that appeals to them cause its simple, if they like the content you put out, they eventually like you.
If you are in the Brand or the Retail industry and want to take your brand or business online with TikTok Snapchat or any of the Gen Z apps, If even you need help with kick-starting your own personal TikTok channel, comment below or WhatsApp me on 00971558500095 and I'll be more than happy to assist you.
If you like the content I put out, like, and share this blog and video with others who can learn and benefit from it. Until then, stay happy and stay blessed and remember that the journey to a million followers starts with creating the account and making your first TikTok so go out there and start making content NOW.
Thanks for reading my Blog  stay blessed and stay safe. My next video is going to be a killer one we have done a deep dive into how speed is the killer differentiator in the eCommerce game and how every millisecond that your site takes to load costs you in dollars. So stay tuned. Oh, and yes please subscribe to our awesome newsletters the link in the description of this blog.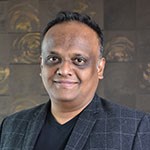 About The Author : Lovetto Nazareth
Lovetto Nazareth is a digital marketing consultant and agency owner of Prism Digital. He has been in the advertising and digital marketing business for the last 2 decades and has managed thousands of campaigns and generated millions of dollars of new leads. He is an avid adventure sports enthusiast and a singer-songwriter. Follow him on social media on @Lovetto Nazareth