The digital world is evolving each and every day and so is consumer behavior. Due to this reason, it has become more than necessary for brand owners to keep up with the changes in consumer behavior or they are sure to lose out on the market competition. According to a study by Google, 58% of consumers have found local business services near them by conducting searches via voice. Given the rate at which this shift and change in consumer behavior are happening, it is imperative for businesses to make a wise decision and rethink their strategies for business growth.
Over the years, voice search is growing and this has fundamentally changed the way consumers conduct searches on the internet. Traditional searches have still not yet diminished however, voice search has drastically changed the game for local businesses. According to a study conducted by Brightlocal, people owning smart speakers like Google Home and Alexa conduct searches for especially for local businesses every day in order to get more information about local services near them such as- restaurants near me, digital marketing companies near me, what time does a certain store open and much more.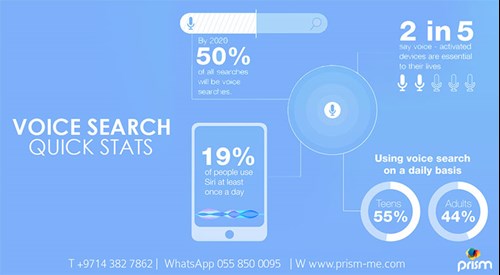 1. Claim your Google My Business Listing- Google My Business helps customers find you. It is vital to complete your GMB profile so as to make your business pop-up in searches when someone is searching for your business. Inorder do rank for local SEO it's essential that your business is well optimized for local search Google business listings. There are two ways in which a searcher can search for a local business online. Here are two examples.
In cases wherein the searcher uses the entire keyword, and if your site is optimized with local keywords chances are you will show up. Eg. Cake shops in Dubai.
The second type of search is a more precise search. Eg. Cake shops near me. For cases like these, Google refers to your Google my Business listings in order to provide information to the user conduction that search.
Hence, It is extremely important that you not only claim your GMA listing but also complete your profile so as to optimize for optimize local business voice. This includes inserting the correct address, phone number, store open and close timings, area or postal code, and much more. The GMB profile has many fields to fill in. Check each one and fill in accordingly. Some of the most important fields are the introduction and the categories field. Treat these two as your business pitch and describe your business in the simplest terms so that your potential customers understand and resonate.
2. Optimize on all search engines- Yes! You read it right. Google is not the only search engine you should be focusing on if you intend to dominate local voice search. Smart speakers such as Alexa, Google Home, etc rely highly on information they receive via the web in order to conduct a local business voice search. For collecting information, these smart speakers make use of citations from trusted search engine sources. You will be surprised to know that each voice assistant speaks relies on different search engines therefore, it is extremely important to optimize on all search engines for penetrating into the local business SEO Examples:
Siri makes use of Google to conduct searches on the other hand it makes use of Apple maps for business listings.
Bing is used for searches on Alexa and Yelp is used for business listing information
Google Assistant makes use of Google to conduct searches and business listings are conducted via Google My Business.
3. Make use of schema markup- Schema markup provides search engines with a structured way of providing business information. Inserting schema markups help search engines understand the content and content on web pages and this, in turn, makes it much easier for search engines to provide exact information for the searchers searching. Essentially, schema markup is also known as structured data and is embedded into your website's source code. By inserting schema markup into your website, you are elevating your chances of receiving results on SERPs. You may have noticed, you ask a question, How to make an apple pie? You will see that you not only get a step by step recipe but you also get recommendations regarding your search with rating etc. At this point, you make be confused as to how this helps in voice search? Here, how! When users make searches on the web they always look for microdata and this can and is easily retrieved via schema markup. The below example provides clarity the same. If you make a search on the population in Dubai, Google retrieves these numbers from schema markups.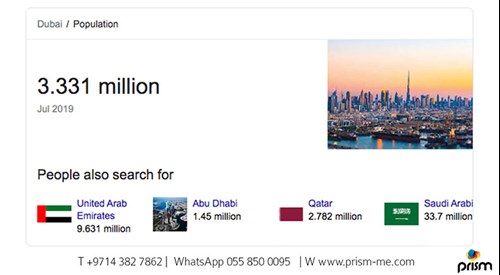 4. Get mobile- If your business is not on mobile yet then, your business is out of business. Mobile plays a vital role while conducting voice search. Hence, it's vital that your website is optimized for mobile as well as search engines such as Google give priority to highly responsive websites. If you are confused about whether your website complies with Google's guidelines, take the , and check for yourself. Some other factors to consider are your website's page speed as well as your content on your page should be easy to understand and navigate. In terms of content on your site, you cannot follow the same structure and font size that you use on desktop. As the mobile screen size is considerably smaller, you need to pay very close attention to the design, font style as well as the font size while optimizing for mobile.
5. Develop an FAQ page on your site- Users conducting searches via voice are looking for quick and easy ways to find answers to their questions. One way to go around this is to focus and incorporate long-tail keywords. To do this, conduct research on the various questions users ask about your business and insert them into your content with relevant answers. Chances are that when a user is searching for that particular question, the answer that you published on your website shows up. Another way to assist voice searches to conduct local searches is to develop an FAQ page on your website or construct a FAQ section on your site. This helps voice searches effectively to spruce up information for the user and is also a great way to put as much information you wish to put. An FAQ page can prove to have many benefits for a local business.
Site visitors love more information and FAQ pages do just that.
It widens reach as it appeals for long-tail voice searches.
Creating a dedicated page can help in improved SERPs rankings.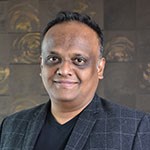 About The Author : Lovetto Nazareth
Lovetto Nazareth is a digital marketing consultant and agency owner of Prism Digital. He has been in the advertising and digital marketing business for the last 2 decades and has managed thousands of campaigns and generated millions of dollars of new leads. He is an avid adventure sports enthusiast and a singer-songwriter. Follow him on social media on @Lovetto Nazareth