I created this blog to take you on a journey into speed. Not the "Fast and the Furious" kind, but your mobile website speed and how it affects your business customer retention and acquisition.
The purpose of this study commissioned by Google was to isolate speed as a performance metric and to observe how it affects consumer browsing and conversion behavior, specifically for mobile sites.
The findings are based on real data from 37 brands accounting for 30 million user sessions over a 4 week period. Considering various business and industry types, the study comprises brands from four different sectors namely; Retail, Lead generation, Travel, and Luxury. However, in this blog, I will explain to you'll the retail sector in-depth covering each aspect of the consumer and purchase funnel.
Table Of Contents
The Milliseconds Make Million White Paper By Google 2020
What the study figured out was that even if you make a small positive change to the mobile speed of can make a massive and positive effect on the Results generated for the business or the brands.
Mobile site data from 37 lead generation case studies, from retail brands, travel OTAs, as well as luxury brands and experiential and lead generation mobile sites from brands across Europe and the US. The results of the study demonstrated that even a small 0.1s delay or increase in page load time can positively or negatively influence the customer journey through the site and determine the final conversion rates.
If the mobile speed of the site decreased by 0.1-second conversions grew by 8% for retail sites and by 10% for Travel sites on average.
When the loading speed of the site decreased by 0.1s, retail consumers spent almost 10%
more, sites that focused on lead generation, as well as luxury consumers on website, engaged more with the page, improving page views by 7% for lead generation websites and 8% for luxury websites respectively.
Customer expectations are ever-changing and with the increased use of smartphones in everyday life the Need for speed … Mobile page speed is amplifying the need for the next-gen mobile formats for web pages. The gap between the have ( high mobile page load speed ) and the have nots( sites that load over 2 seconds ) will only bring about further consolidation in the online market place.
The next big battle for eyeballs will be between the brands that provide a better mobile user experience and those who cannot because they are limited by the technology on which their websites are built.
But why does a mobile site load time matter?
In today's mobile-first world, mobile traffic accounts for approximately half of the overall web traffic. According to a study conducted by Google on the bounce rate, it was observed that 52% of mobile users bounce back from sites that take longer than 3 seconds to load. This can be debatable since the majority of sites have a load time of around 8-11 seconds. Although this might not seem a lot, however, every second can result in a loss of one visitor or customer.
Regardless to say, speed has a direct impact on the overall user experience especially when it comes to e-commerce sites. According to a recent study conducted a while ago, 70% of consumers admitted that the page speed impacted their willingness to buy from an e-commerce site. As per Google's user performance data, even the slightest fraction of a second increase in page load can change your customer's focus and intention to buy or make a purchase. This table shows how load time has an impact on user experience.
How does mobile speed affect your business?
Mobile site speed improvements had a direct correlation to improved funnel progression.
An 8.4% increase in conversions with retail consumers were observed, and an increase in average order value of 9.2%.
When mobile site speed improved we also observed a positive change in the number of page views, conversion rates, and average order value.
A 10.1% increase in conversions with travel consumers was observed, and a slight increase in the average order value of 1.9%.
Retail consumers were most sensitive to speed in the pre-checkout stages of their conversion journey.
An 8% increase in page views per session was measured for luxury sites.
The highest homepage bounce rate improvement of 6.5% was in the travel vertical.
Lead generation informational pages bounce rate improved by 8.3%.
Bounce rates on product listing pages in retail and travel improved by 5.7% and 5.4% respectively.
Retail customer engagement increased by 5.2%.
What do your customers expect from your mobile website?
User Performance data from Google demonstrated that even the 0.1ms change in page load speed can affect customer attention and engagement with the page.
Over the years humans have got very adept at tracking scrolling motion on their phones and if the animation or the loading time is not smooth and seamless they completely hate it.
0-16ms
Humans now perceive motion and frame by frame animation as smooth as long as they render at 60FPS or new frames rendered per second. i.e. 16ms is the max time spent per frame, including the load time or in simpler words ( The time it takes for the browser to paint the new frame to the screen,) This leaves an app ONLY about 10ms to produce a frame.
0-100ms
If the site responds to user actions within this time frame then users feel that the interaction is seamless and they feel satisfied if that interaction takes any longer, then the tactile connection between the page, the action and the reaction it elicits from the user, is broken and the whole experience is flawed … negative reactions will soon ensue.
100to 300ms
At this speed When users experience a slight palpable delay in the load time, it feels like things are part of a natural and continuous progression of tasks. For everybody surfing the website, the very act of page loading or view changing resembles a monotonous task. This is not very desirable and will cause bounce.
Beyond 1000 milliseconds (1 second), users completely lose focus on the task they are performing. This is really bad !! and definitely causes negative responses.
Beyond 10000 milliseconds (10 seconds), the wait time for the page is so huge that users are frustrated and are likely to abandon tasks like scrolling or even wanting to pay with the credit card open in their hands. They may or may not come back later in most cases they will never come back to the site.
What are the Key Findings of the Google Mobile Page Speed Study 2020
Consumers are now mobile-first
Mobile is fast becoming the primary digital touchpoint for every customer and affects both online retail sales and in-store purchase decisions. This stronghold that mobile has on online sales will continue to grow and it is estimated that MCommerce will double from 2019–2023, which will surpass ¾ of total eventual e-commerce sales.
Smartphones are now critical in every part of the customer purchase journey, from product discovery to price comparison, comfort when browsing on smartphones is very much larger and influences the potential to buy.
In response to an increasingly smart and affluent mobile-first consumer, brands need to put their mobile eCommerce channels first and pay more attention to them. They need to embrace mobile completely and adapt culturally to the preferences of the local public if they want to acquire and retain consumers in different geographical segments over the long term.
Consumer expect more from your site
Expectations and needs of your customers have grown substantially over the last decade and will grow evermore. In the age of mobile e-commerce, you need to be customer-centric. The Competition is constantly adapting to new technology and perhaps the digital platform evolution is amongst the key drivers, however, the main catalyst has been the growth in consumer expectations, and a drastic decrease in the tolerance of a bad or mediocre mobile experience.
Mobile experience matters
One thing the report makes very clear is that the mobile experience matters to your customers and the study proved that if your mobile website load slowly, you visitors would not only have a bad experience they would share their bad experience with the world … on social media and remember whatever goes online stay there … forever !!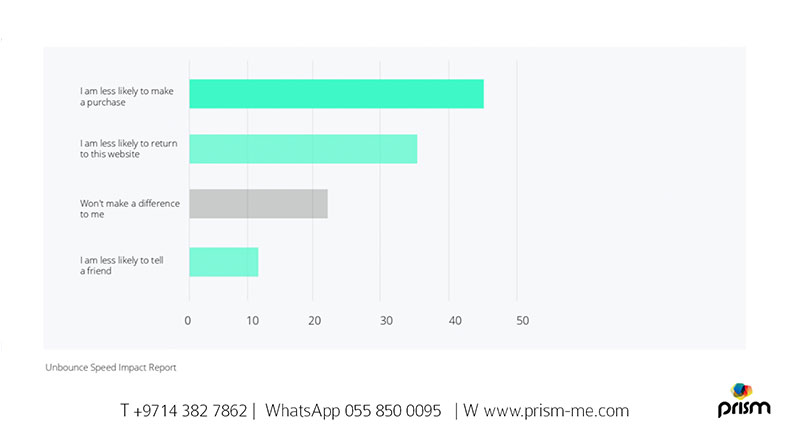 These are the reaction of customers which were surveyed
Over 45 % said they were less likely to make a purchase
37% said they were less likely to return to the site
23% said it would not make a difference if they knew the brand well
And 13 % said they would never tell a friend
If you are still thinking whether load time really matters, check out this statistic as it shows how a decrease in page load time has a direct decrease in the bounce rate.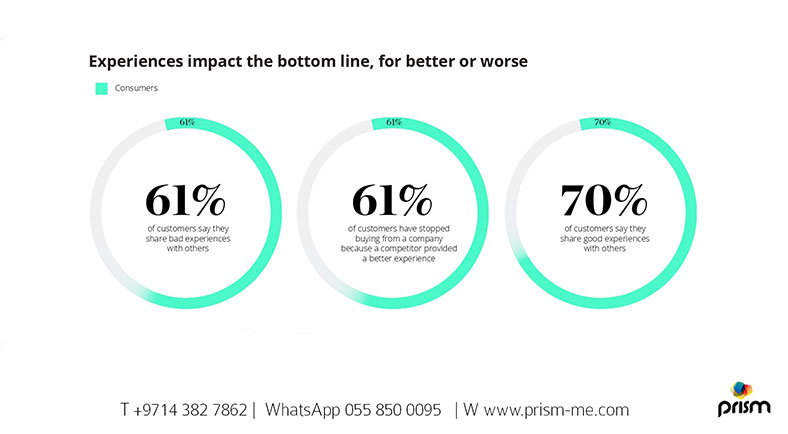 How does mobile site speed affect your Ecommerce Business
Businesses that fall under the retail sector mean, businesses that sell their products or services to an individual consumer for use. This transaction can happen through various mediums such as direct sale, brick and mortar stores, or even online via the web.
As this blog is a study on how a change in page speed and the site performance has an effect on consumer buying behavior, I will focus on online retail and how online retailers can learn mobile speed optimization tips and optimize their sites to witness an increase in conversion rates. In order to understand the role of a mobile site page speed in the retail business, I have broken down the entire analytical study along with mathematical explanations for each step.
Consumers in the retail sector have a better response to speed in the pre- checkout stage of their buying journey. This retail study is based on the findings from over 20.5 million user sessions on retail, e-commerce mobile sites. The study shows how an increase in 0.1 seconds, increased the overall conversion rate.
As for any retail site, the steps for conducting a purchase almost remains the same. For this study, two types of consumer buying journeys were analyzed.
A simple one-step check out process
A two-step check out process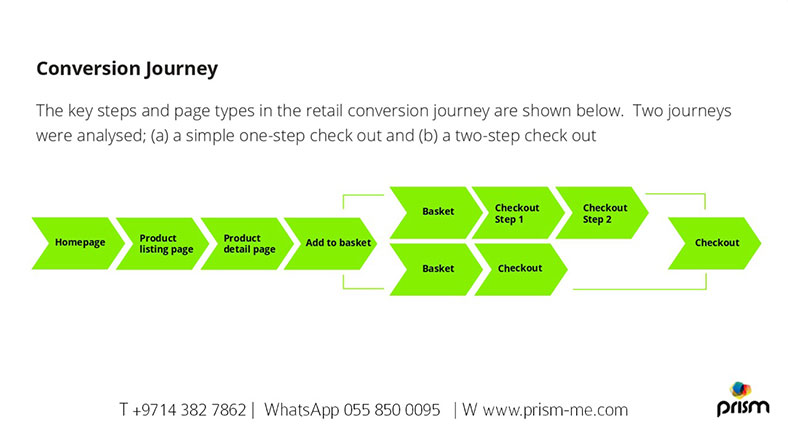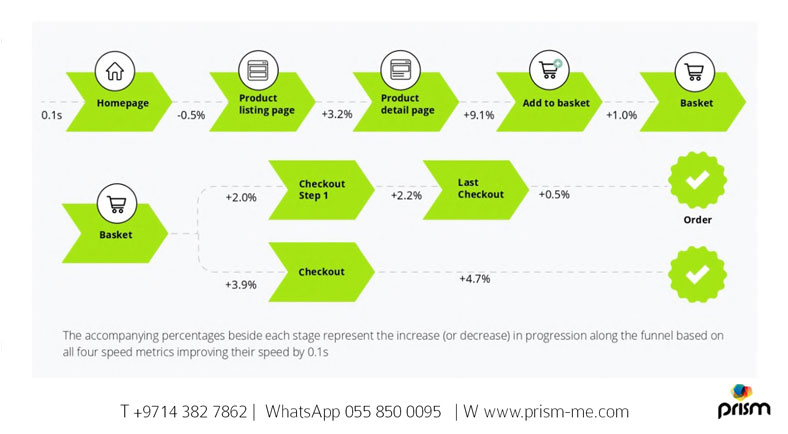 The accompanying percentages beside each stage represent the increase (or decrease) in progression along the funnel improving their speed by 0.1 seconds.
As for any retail site, the most important page is the product listing page as that page gives your customer a bird's eye view of your company and your offerings.
The study indicates how an increase in 0.1 seconds eventually caused a 3.2% increase from the product listing page to the product detail page. Not only this, however, but the study also shows a 9.1% increase when consumers move ahead in their buying journey and proceed to add to basket. This change was observed only because of a decrease in the product listing page. Think about this.
Take for example. You log in to an e-commerce mobile site on the hunt to buy a black jacket. If the product listing page is really slow and n0t performing well, would you waste time on that page waiting for it to load or bounce back and search for another website selling similar products that you're looking for? The answer is pretty obvious. You wouldn't want to waste a second more on such a website especially while shopping.
As you can see, to get a better understanding of the funnel progression, the funnel was split into pre and post-checkout. The observations were pretty astonishing. User engagement was at peak during the pre-checkout phase that is the phase where consumers were scrolling through the website checking out product options and product details even before then checked out. However, the study shows a decrease in 1% as the consumers proceed to the checkout step that is, 'add to cart' or 'add to basket'.
During the study, a negative impact was seen from the home page to the product listing page of nearly -0.5% This is debatable as people sometimes are drawn towards clicking on the promo banner as the banner take them directly into what they are looking for rather than them scanning through product categories.
In the retail business, it is imperative to focus more on your product detail page as compared to your homepage. This is mainly because users coming to your homepage know your brand and your loyal customers. On the contrary, people coming to your product page are coming straight from an ad you are running. So, imagine, if a user saw your ad and clicks on it, that means they are interested. But after coming on your page if your site doesn't load fast enough, they will bounce back even faster. This will only mean that they bounce back and search for another retain business selling products or services as per their need and requirement. Needless to say, the most important step of a consumer journey is the checkout phase. The study states that regardless of a one-step checkout process or a two-step checkout process, consumers were sensitive to the 0.1 seconds increase in speed.
An increase in 0.1 seconds caused an overall decrease in the bounce rate for mobile users. The study states an overall decrease of 0.6% on the homepage, -5.7%, and -1.9% on product listing page and product detail page respectively.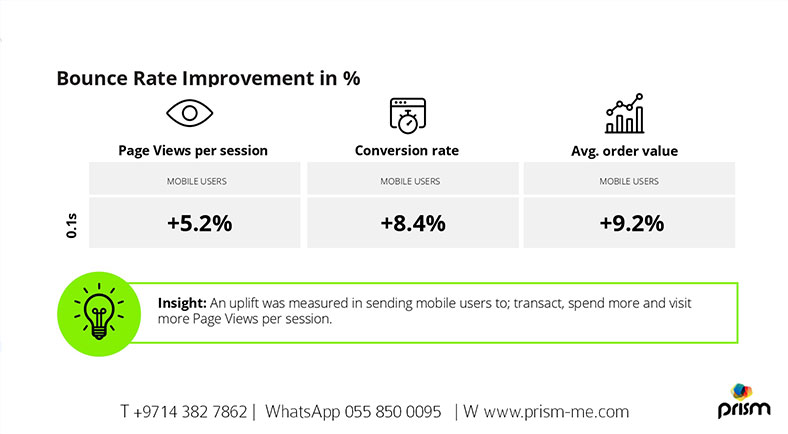 What happened when you increase the speed of your mobile site:
When the site speed increased by 0.1 seconds, a positive correlation between page views and conversion rate. The most impart metrics for any retail business i.e. Average Order Value showed a drastic improvement of nearly 9.2%. That indicates that users spent nearly 9.2% more on mobile.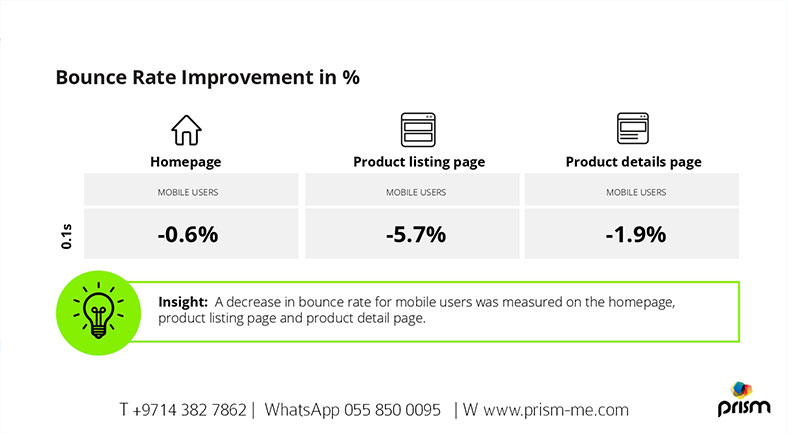 What happens after a decrease in mobile site speed load time.
Now that why it is necessary to improve mobile site speed, here are a few key findings from the study conducted. These findings showcase the improvements caused by just decreasing only 0.1-second site speed.
The study shows how decreased site speed had a direct impact on the consumer funnel progression.
Decreasing 0.1-second site speed cased an 8.4% increase in conversion for retail customers and an increase in order value by 9.2%
Improvement in mobile site speed optimization caused a drastic spike in the number of page visitors, average order value as well as overall site conversion rate.
Consumer engagement from the retail sector increased by 5.2%
Product listing pages on retail sites showcased a 5.7% and 5.4% bounce rate respectively.
Low sensitivity while moving from product detail page to basket.
Improvement in page viewership, customer conversion rate, and AOV.
If you own an e-commerce website, check my video on tips to rank your website on voice search with Google
Apart from these metrics, here are examples of a few famous companies, wherein a difference of just seconds and milliseconds had a drastic effect on their overall brand

Bing, one of the highly used search engines found that a two-second delay in page load time caused a good 1.8 % drop in queries as well as a 3.75 percent reduction in clicks.

Amazon calculated that page load drop of just a second could result in a loss of $1.6 billion in sales each year.
With every 100 milliseconds of decrease in page speed, Walmart saw a 1 % increase in revenue.

Google the world's most used search engine, experienced a loss of 20 % in traffic for each additional 100 milliseconds it took to load a page.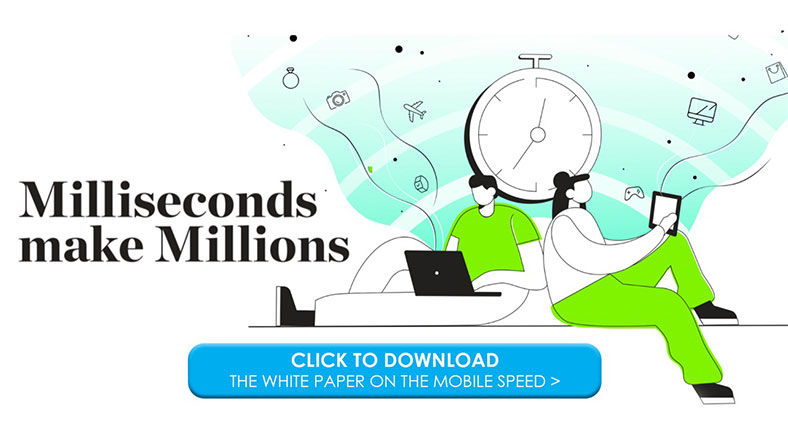 So, the simplest conclusion of this study is really logical:
If you are struggling to gain increased sales, the answer to your problem is pretty straightforward. Pay attention to your site's performance and optimize it to load faster and better. Simply put, decrease your websites' page loading time and see a drastic spike in your conversions. Surprised that your website's load speed can be the biggest hindrance to your business growth? It's quite difficult to digest but it's true.
Please remember that Google as well as other search engines such as Bing, Yahoo, etc first prioritize websites that have a faster loading speed time as compared to slow loading websites.
It's very frustrating to wait endlessly for a very slow website to load on your mobile so you will immediately Bounce and leave the site. It is basic human psychology. Google and other search engines recognize this as a major factor in website – human interaction and hence it plays a very crucial role in your website ranking on search engines. As a business owner, if your website has a low loading speed, you are sure to lose out on ranking on google and consequently you will also lose out on sales, and conversions, and new customers coming on your site.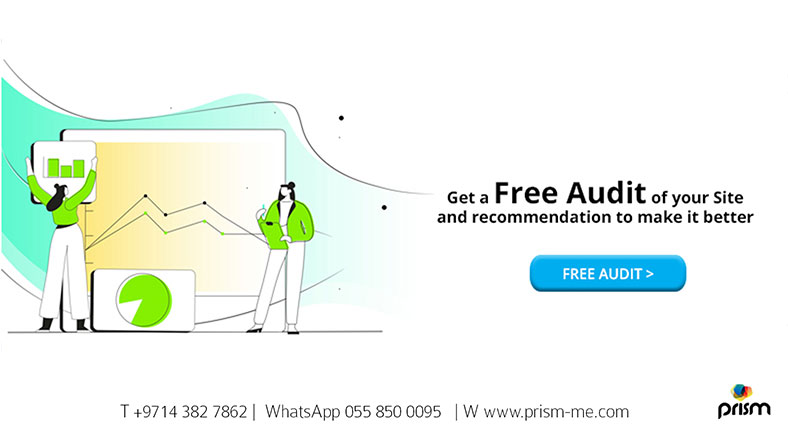 If you need help creating your own Google Ads Campaign for your website, or even auditing your website for speed issues please feel free to comment below or WhatsApp us on +971 558500095 and we will be more than happy to assist you.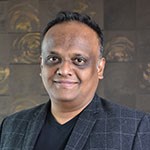 About The Author : Lovetto Nazareth
Lovetto Nazareth is a digital marketing consultant and agency owner of Prism Digital. He has been in the advertising and digital marketing business for the last 2 decades and has managed thousands of campaigns and generated millions of dollars of new leads. He is an avid adventure sports enthusiast and a singer-songwriter. Follow him on social media on @Lovetto Nazareth